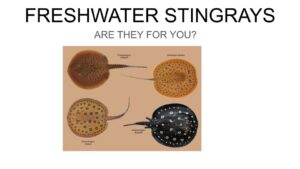 Eric Maxson Bio:
I am from Lakeview, Michigan and started keeping fish in the early 90's focusing on Discus and Apistogramma's. In 2012 I joined Grand Valley Aquarium Club in GVAC. I have accomplished HAP rookie-of-the-year, Horticulturalist of the year and Aquarist of the year. In 2021 I become a fellow member which is my biggest highlight and honor. In 2013 I bought my first pair of freshwater stingrays and have been keeping and breeding them ever since. In 2020 I was awarded spawn of the year for Potamotrygon motoro stingray. Right now, I am keeping a 1300 900-gallon indoor pond A 180 120 and various other aquariums. I also keep livebearers and other oddball fish.
Meeting location
Address: 5120 Victory Dr, Indianapolis, IN 46203
CCAC Monthly Meeting Online Viewing
03 August, Thursday @ 07:30 PM EST
https://bluejeans.com/5935880847
What to expect:
A typical meeting we start setting up about 7:00 pm and will official start around 7:30 pm. At the start of the meeting all club business and announcements are made.
Next is our speaker/presentation. Typically they last about 1 hour. Topics have a very broad range as far as a hobbyist can see.
After that a brief intermission.
The Conclusion consists of door prizes, a members-only raffle item donated from one of our many proud sponsors/supporters, and a members-only mini-auction of fish and aquarium related goods.  Meetings usually last until 9:30 or 10:00 pm